Meridian Flexibility
Meridian Flexibility is the most powerful fitness technique available. All 16 organs of the body will be detoxified physical, mentally, emotionally and spiritually through this powerful fitness technique.
Meridian Flexibility is a series of 16 stretching movements. Each of the different meridian lines associated with the 16 organs will detoxify and positively affect the physical, physiological and psychological aspects of the body.
This system is based on an overall approach to health and well-being. The system is also rooted in the belief that one cannot be of sound body without sound mind
It's the most powerful fitness/strength/stretch/emotional balancing technique ever developed. This technique mimics how people and animals are naturally inclined to stretch. I incorporate my training in neurology and energy medicine to give you the most powerful fitness workout you will ever experience. My combination of stretching and strengthening techniques improves the different types of tissues including muscles, fascia, tendons, ligaments, joint capsules, cartilage, bones, circulatory and lymphatic flow, oxygenation of blood, endocrine function, cerebrospinal fluid etc…
Meridian Flexibility incorporates e-centric strengthening and stretching, originally developed by NASA and still in use in their space programs to promote health and anti-aging strategies for astronauts.
[/two_third]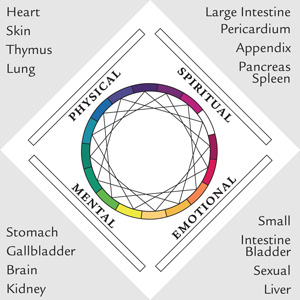 MERIDIAN FLEXIBILITY FAQ'S
What is Meridian Flexibility?
It's a specialized resistance stretching technique and system that will define and balance your physical, spiritual, emotional and thinking traits. In addition the system divides the 16 major organs of the body and categorizes 4 to each of your physical, spiritual, emotional and thinking traits.
Why is Meridian Flexibility Different from Traditional Stretching or Yoga?
The system teaches you how to understand and transform the physical, spiritual, emotional and thinking traits of yourself and others. You will automatically become more compassionate to self and others as a result of your deeper understanding of our human nature.
What are the Benefits?
The stretching technique and positions will increase the positive aspects of your physical, spiritual, emotional and thinking traits and decrease the negative. You will have a deeper understanding of self and others. You will be in control of these aspects of yourself and can choose to move through life as your most powerful self.
How Many Stretches are there to Learn?
We start with 16. There are beginner, intermediate and advance stretches. You can stretch alone (unassisted) or with a partner (assisted). However, once you understand the system there are unlimited types of stretches that you can do.
Is This Something I Can Do Alone or With Others?
Yes, you can stretch alone, with a partner or in a group class setting. Once you learn the technique and unlimited number of poses you can do the stretching anywhere without need for a gym or any special equipment.
Is it Hard to Learn?
No, the system starts out with 16 stretches that are easy to understand after that there are unlimited numbers of stretches that you can learn at your pace. Remember each stretch will DIRECTLY IMPACT your physical, spiritual, emotional and thinking traits and the organs within these traits. You can choose where you would like your focus and improvements to be.
How Will I Remember All the Stretches and How To Do Them?
There is a book that you can purchase called "The Genius of Meridian Flexibility" by Bob Cooley. It's available at bookstores, online or at our workshops and classes for purchase. There are 60 stretches in the book, information on physical, spiritual, emotional and thinking traits, worksheets to assist you in designing your stretching routines and reference charts for easy look up of what stretches to do to transform your physical, spiritual, emotional and thinking traits
Will I get a good workout?
The beauty of this system is that it will meet you where you are at. Therefore it's possible to have a grandmother and a pro athlete in the same workshop! You can design the workout to be as easy or difficult is you want and it has unlimited possibilities for growth and challenge.
Are There Additional Workshops Available if I Want to Learn More?
Yes, we offer beginner workshops on the overall framework of the system and demonstrations of the 16 beginners unassisted stretches. There is a workshop available that focuses on the physical, spiritual, emotional and thinking traits and how to best utilize the system to achieve your personal goals.  We have classes that are done in a series of four that are divided by the physical, spiritual, emotional and thinking traits. This allows you to focus more in depth on the four organs assigned to each trait and corresponding stretches per class. Ultimately increasing your knowledge of all 16 organ/stretches after the completion of the class series. There is private instruction available on all aspects of the system.
Register Now for this Workshop!
CLASS:
Please bring a yoga mat, preferably with padding, 2 bath size towels, water and a light snack.
Bring a writing utensil to take notes and a notebook or you can write directly in the training book.
Wear loose or stretchy clothing, no shoes needed, bring or wear socks.
Please arrive on time there's a lot of information to cover.
You will be doing a lot of stretching and there will be specific information that is related to each stretch so that you will be able to do the program at home.
FEES:
Advanced registration is required with fees paid in full in advance.
Fees are $295 per workshop per person. Work shops are approximately 3-4 hours.
The training book is not included in your fee. The training book can be used for additional workshops that you may sign up for and covers 4 levels.
There is a no cancellation policy and no refunds, credits or make-up for cancellations.
After payment, you will be redirected to the registration page.
Please fill this out to reserve your spot in this Workshop.
Policies
Please extend the courtesy of calling to cancel at least 24 hours in advance. Appointments that are cancelled with less than 24 hours notice will be subject to a cancellation fee. All sales are final on products and services.
Payment in full is due at the time services are rendered.